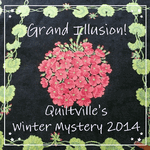 Today I went to Lowes to pick up a copy of each of the Valspar color cards that Bonnie is using for color guides for
Grand Illusion
.
Here are the fabrics I have pulled from stash.
I do need more turquoise and one and 5/8 yds. yellow [that is to be constant thoughout the quilt] because there isn't enough of any one yellow in my stash but there
does
appear to be adequate variety and yardage of the other colors.
Angela
is again organizing a get together to celebrate the mystery on 30th. November. I think we expect twenty plus participants so it should be a lot of fun like last year.
My major chore this week is to make and apply labels to about thirty quilts I am preparing for sale the second weekend in November. Our Lady Of Joy church in Carefree AZ, has an annual bazaar and I am hoping to make space in my home by selling some of my stash of quilts.
Most are shown on my blog under the "Quilts For Sale" heading.
So far thirteen have labels leaving still a lot to be done- perhaps that is a lesson to be learned about applying labels as I complete the quilts!